JONATHAN GOODMAN LEVITT
Producer / Director / Editor / Camera / Production Sound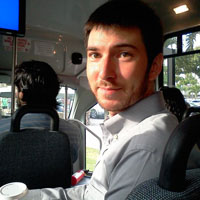 Follow the Leader is Jonathan Goodman Levitt's first film made in the United States, after a decade working as a filmmaker based in London. His past work as director and/or producer has been primarily funded and shown by European broadcasters including BBC, Channel 4, Arte, DR, and SVT.  Jonathan's company Changeworx USA LLC is also currently in production on films with international partners in Pakistan and Chile that have received support from funders including TriBeCa Film Institute, Center for Asian American Media, and IFP. His previous feature Sunny Intervals and Showers (Director / Producer / Editor / Camera, 2006) screened at Film Festivals including Sheffield, Chicago and One World; aired as part of the BBC Storyville documentary strand; and was nominated for Grierson (British Documentary) and Mental Health Media Awards. Other credits include consulting on a Best Documentary Emmy-winner featuring Stephen Fry, and various roles on several successful short films and multi-screen art installations. Jonathan studied social psychology, political philosophy, and studio art at Stanford, and was a Fulbright Scholar studying at the UK's National Film School (NFTS) in 1999. Since 2008, he has been based in Brooklyn, New York.
CARLA RUFF
Co-Editor / Story Consultant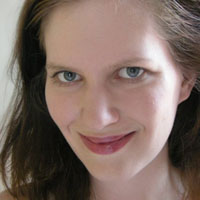 Carla Ruff is an award-winning documentary editor and filmmaker based in Brooklyn, New York. In recent years, she has been a producer and editor for TV's Dan Rather Reports, and worked an artist and motion-graphics designer with over 30 credits on a variety of video projects and art installations. Her documentary editing credits include Daughters of Wisdom (Best Documentary, Brooklyn Film Festival); Steve Earle: Just an American Boy; and The Never-Ending Path. She has a degree in film from NYU and is a Fellow in Film with the New York Foundation for the Arts (NYFA). Carla provided incisive story analysis at a vital stage in the editing process, and later joined the team as an Editor – some of the film's most dynamic sequences are thanks to Carla's unique skills and perspective, and her passion for keeping things moving through no-nonsense storytelling.
DAVID SCHWEITZER
Composer
David Schweitzer is one of the most sought-after, award-winning and eclectic composers working in the United Kingdom today. He has scored well over 100 films since attending Oxford and the UK's NFTS. His Charlie and Lola score won a Royal Television Society Award, unprecedented for a children's program.  David's credits include many high profile series for Discovery, National Geographic & BBC. Also a successful singer-songwriter, David and his wife Mary were commissioned by the Tate Gallery to create the best-selling "ArtSongs" CD. Follow the Leader marks David's second collaboration with Jonathan, after their work together on Sunny Intervals and Showers, on which David exceeded all expectations by nailing every song and cue he was asked to write on his first attempt! Also a father of four, more about David and his music can be found here: www.davidschweitzer.net
ZACK MARTIN
Composer
Zack Martin has been a professional musician for the past 16 years. Zack's other recent documentary scoring work includes the celebrated feature The Way We Get By, for which he composed all music. But he's best known for being the driving force behind the band Carrigan, which has a large following around New England, especially in the Boston area. In 2006, Carrigan released its second album Young Men Never Die on Boston's Radar Recordings. Zack has previously performed at Austin's SXSW music festival, and toured with bands including Muncy Indiana's BRAZIL, Drowningman, and The Cancer Conspiracy. His studies have included percussion and guitar in jazz, rock and experimental music. Zack's rock- and punk-infused tracks amp up the youthful energy in Follow the Leader and mirror the main characters' passion for and sense of wonder toward politics. Carrigan's music can be found on iTunes; and some of Zack's other music for film can be found here: www.zackmartin.bandcamp.com/
EMILY BRANHAM
Graphics Producer / Design & Animation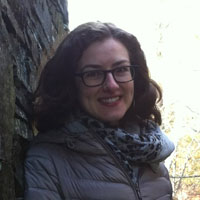 Emily Branham is a filmmaker based in Brooklyn, New York. Her short documentary, Legend: A Film About Greg Garing, won the jury prize for Best Film in the International Documentary Challenge (2010) at Hot Docs in Toronto, and screened at Sheffield Doc/Fest (UK) and IDFA (The Netherlands). She is currently in production on her first long-form documentary, Bebe, about the rise and struggles of an exceptional drag queen from Cameroon, BeBe Zahara Benet. Emily has directed music videos for artists including Jonatha Brooke, Eleni Mandell, Jeff Litman and the Muckrakers. Originally from Minneapolis, Minnesota, she studied Radio, TV and Film at Northwestern University. In 2002, Emily moved to New York City where she works as a freelance post-production and visual effects producer. For Follow the Leader, Emily assembled and managed a visual effects team that included acclaimed designers/animators Cassidy Gearhart and Dave Tecson, and several colleagues from Edgeworx Studios and The Mill.
Primary team members also include:
ROB DALY (Re-Recording Mixer), a sound editor and designer (Bowling For Columbine, Sita Sings the Blues, and My Country, My Country) who also co-heads a hybrid punk band;
ADAM SEVERS (Sound Mixing) a mixer at De Lane Lea, London, with over 30 years sound editing and mixing experience at Yorkshire Television on film and television including A Touch of Frost and Wuthering Heights.
PEDRO PADILLA (Color Correction), an accomplished colorist who also works as a cinematographer and operates a post-production house;
ALEX STIKICH (Additional Cinematography), a filmmaker with wide-ranging experience whose recent cinematography can be seen throughout the landmark PBS series America Revealed;
NANCY KENNEDY (Consulting Editor), a filmmaker and editor of many Sundance prize-winners such as Why We Fight and For the Bible Tells Me So;
ADAM ZUCKER (Consulting Editor), who has collaborated with Ken Burns, Rory Kennedy, Barbara Kopple and Sydney Pollack;
PAGAN HARLEMAN (Consulting Editor), who's edited high-profile series for MTV, ABC and PBS;
EMILIANO BATTISTA (Associate Editor), known particularly for his work with Xiaolu Guo and Eva Weber; and
BARBARA PARKS and ALEX NOYES, who are among New York's most sought after sound editors and designers, for their work at Splash Studios.