DVD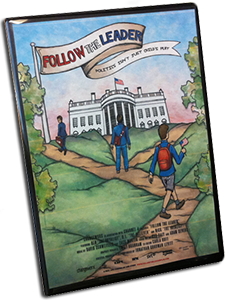 FOLLOW THE LEADER is now available on DVD for sale for personal use only via this website, at the Changeworx Store.
Educational DVDs are available exclusively here as well via Changeworx Educational. Your purchase help us continue to finance the creation of Educational Guides and Lesson Plans over the coming months.
The Educator Area contains answers to questions about whether you need and/or qualify for an Institutional Copy. If you are intending to charge admission, for instance, you should fill out our Request a Screening Form to discuss your event specifically. But if you are planning free educational screenings or other use by students (or church members, for instance), you should purchase the Educational DVD via links below.
FOLLOW THE LEADER is available in two versions (Feature and Hour) and two formats (American / NTSC and European / PAL). Please choose the appropriate item for you in the drop-down menus included in the PayPal buttons below. In European PAL Format, the films are 2-3 minutes shorter (we could go into the technical reasons why, but are sure that would bore most readers!).
FOLLOW THE LEADER (2012)
Educational Edition*

(College or Library)


*Comes with University Educator's Guide & Lesson Plans
Dir. Jonathan Goodman Levitt
Feature Version (74 minutes) or
Hour Version (60 minutes)
NTSC or PAL Format
16:9 Widescreen
Stereo Sound
Not Rated
$395.00 + Shipping
FOLLOW THE LEADER (2012)
Educational Edition**

(K-12 School or Other Non-Profit)


**Comes with High School Teacher's Guide & Lesson Plans
Dir. Jonathan Goodman Levitt
Feature Version (74 minutes) or
Hour Version (60 minutes)
NTSC or PAL Format
16:9 Widescreen
Stereo Sound
Not Rated
$179.95 + Shipping