"Taking Action" and Social Change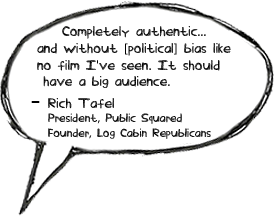 At Changeworx, change is literally 60% of our name, and we take it seriously. But our films don't necessarily encourage you to change or Take Action(!) in specific ways.* Instead, our goal is to make participants (audience members) active while viewing, and more thoughtful later when people and issues like the ones in the film are raised. To us at Changeworx, each viewer completes the film by viewing it, because you bring your own unique perspective to it. If that leads you to action that enriches your life or the lives of others, that's our goal in action! But that doesn't mean we know what's right for you.
Follow the Leader in particular takes a unique and non-traditional approach to social change. Rather than focus on "future leaders" who represent an idealistic vision of our leaders of tomorrow, our protagonists are instead teens who represent our country's "traditional" leaders. By upending our commonly held assumptions, the film forces us to rethink and hopefully better understand the modern political realities of the United States – while introducing many of us to people unlike anyone we currently know.
As the film's characters are forced to reconsider their own political views, they also model the sorts of thoughtful reflection required by more citizens for various forms of societal change to occur, and for a more politically engaged society to take root. The basic idea is that, in the long run, encouraging more understanding and substantive political discussion (certainly generally lacking these days!) will help us take steps together toward a fairer political system and society that reflects more of our shared values.
The film stands alone, and is intended for traditional distribution through screenings, television and DVD/digital viewing. But Changeworx's plans in the months both before and after the 2012 Election center around interactivity and social engagement – namely through a groundbreaking interactive transmedia project called Follow the Leader: Reality Check.
*We do recognize that all our decisions throughout making the films are subjective. We don't make particular claims about representing "reality" – we do aim to be fair to the people whose lives we represent, and to give you room while viewing to think for yourself.