Television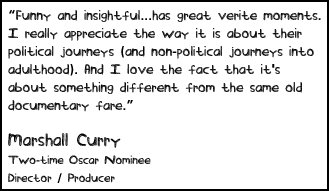 Follow the Leader will be broadcast on PBS stations nationwide as the closing film of the new series America ReFramed, on June 30th at 8pm (check local listings for broadcast station and to confirm time in your area). If you are a broadcaster and have any questions about licensing the film in future in North America or elsewhere, please contact Filmmaker Jonathan Goodman Levitt at jgl@changeworx.com.
Our international television distributor in many territories is DR International Sales, Denmark. To request a screener or with any international sales enquiries, please contact Sanne Arlø, Area Sales Manager, +45 2854 3959 saar@dr.dk
If you're not a broadcaster but want to see the film shown on TV here at home, please help us by "liking" us on Facebook; rating us highly on IMDB; tweeting about the film; and interacting with us through online media – building an active audience and community is an important step for us in convincing broadcasters to license the film. Thank you in advance!
Follow the Leader has been broadcast in many countries internationally beginning in 2012. We are grateful to all of our foreign public broadcasters, and could not have made the film without their generous support – in some cases since 2007. Follow the Leader was made in association with:

Channel 4, UK

Danmarks Radio (DR), Denmark

Norsk Rikskringkasting (NRK), Norway

Sveriges Television (SVT), Sweden
For now, we can also confirm the film will be seen on:
SIC, Portugal
IKON, The Netherlands
NHK, Japan
TVP, Poland
and more to be announced soon…
If you live in any of these countries listed above, we hope you will enjoy the film! Since we are not always told in advance about broadcasts of our films, please check your local television schedules for more information, via links provided to the broadcasters' websites above. If you live elsewhere, we will update this page when additional broadcasters are confirmed…and there may also be ways to see the film in your area digitally.