CHANGEWORX EDUCATIONAL ONLINE STORE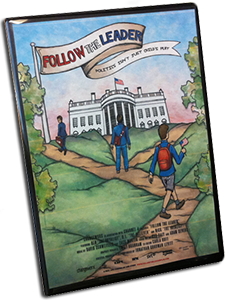 All Changeworx films are suitable for coursework in a variety of subjects. FOLLOW THE LEADER, for instance, is being used for lessons in, but not limited to, the following areas:
Political Science • Psychology • Attitude Change • Youth / Teen Studies • Social Anthropology • American Politics • Belief Polarization • Film Studies • Sociology • Political Philosophy • Democracy • Political Ideology • National Identity • Conservatism & Liberalism • American Studies • American Power / Exceptionalism • Media Literacy • Political Advertising • Propaganda • First-Person Histories
Educational DVDs are available for shipment, and include classroom usage rights, otherwise known as Public Performance Rights for institutional screenings. Your purchase also helps us continue expanding our Educational Guides and Lesson Plans, which are provided to all educational license holders when available. If you are intending to charge admission, you should fill out our Request a Screening Form to discuss your event specifically.
All payments at the Changeworx Educational Online Store are processed conveniently via PayPal, and you don't need a personal PayPal account to pay by credit card. When you click "Add to Cart," the Store opens in another window, where you can complete your purchase.
FOLLOW THE LEADER and SUNNY INTERVALS AND SHOWERS are both available in both American (NTSC) and European (PAL) formats. If you would like to speak to someone on our sales team, or to pay other than via PayPal, please complete our contact form so we can contact you. If you prefer to receive a TV-hour version instead of a theatrical feature, we also should also be able to accommodate such requests.
FOLLOW THE LEADER
Educational Version
Dir. Jonathan Goodman Levitt
Feature Version (74 minutes)
As seen on PBS Stations
16:9 Widescreen; Stereo
NTSC or PAL Format

Educator's Guide included
$349.95 + Shipping
SUNNY INTERVALS
AND SHOWERS
Educational Version
Dir. Jonathan Goodman Levitt
BBC Feature Version
70 minutes
16:9 Widescreen; Stereo
NTSC or PAL Format

Educator's Guide included
$295.95 + Shipping
LIVING THE ROLLER-COASTER
Educational Version
Dir. Jonathan Goodman Levitt
Co-Dir. Erin Thompson
14 minutes
16:9 Widescreen; Stereo
NTSC Format ONLY

$99.95 + Shipping
GANGBREAKER
Educational Version
Dir. Jonathan Goodman Levitt
10 minutes
16:9 Widescreen; Stereo
PAL Format ONLY

$99.95 + Shipping