WATCH THIS SPACE!

Follow the Leader is currently seeking a WORLD PREMIERE on the Festival circuit, and we will be sure to announce news here as soon as we can. We are already scheduling screenings and interactive events for August and beyond, so if you would like to make a request, please tell us about your needs here.
Follow the Leader is also the primary part of an Interactive Transmedia Event called Follow the Leader: Reality Check – which involves breaking the film into five episodes that alternate with interactive voting sessions to create a unique and transformational 2-hour Live Event. As we start scheduling our Fall Tour for the film and Interactive Events, the earlier we can plan our route the better!
Festival programmers and North American buyers can email the Director Jonathan Goodman Levitt directly here.
WORK-IN-PROGRESS / TEST SCREENINGS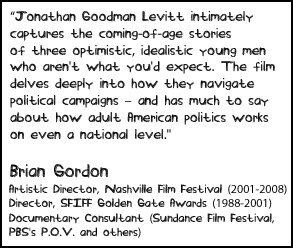 All private and non-ticketed / free
We are grateful to the following institutions and organizations for hosting work-in-progress / test screenings of the film in recent months. Changeworx is also developing an interactive transmedia project called Follow the Leader: Reality Check, and some of these events have been workshops where we've tested our format for the first time – our thanks to everyone involved for your support!
May 2012 and prior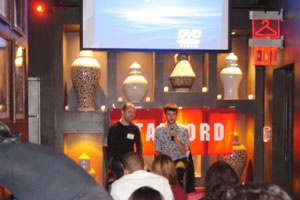 Edgeworx Studios
The New School
West Essex Senior High School (Student Workshop for Reality Check)
One World Youth Project / Young Civic Leaders
George Washington University, Graduate School of Political Management (Outreach Partner Workshop for Reality Check)
May 22: Stanford Alumni in Entertainment Festival and Fundraiser (preview clips only)
June 2012
Union Docs (Crew Screening and Reception hosted by our Fiscal Sponsor)
June 9: Roosevelt Institute Summer Academy (Preview for one of our Outreach Partners)